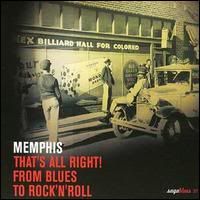 If Memphis is remembered as the place where Elvis Presley ignited the rock'n'roll revolution in the mid-fifties, the city is forever linked to the rise of the musical idiom that shaped the future of western popular music, the blues.
From the colorful bards of the roaring twenties (Furry Lewis, the Memphis Jug Band, Memphis Minnie) and the one-man-band figures who performed for change on the sidewalks of Beale Street to the inventors of modern electric blues (Howlin' Wolf, B.B. King, Little Milton), the main purveyors of the blue note ruled over the nights of Memphis before this great cotton capital became a haven for soul music.
This 24 track compilation recognizes the importance of Memphis in the development of the blues, from the early 1920s to the inventors of modern electric blues and the roots of soul music.
VA - Memphis - Thats All Right! From Blues To Rock´n´Roll
(192 kbps, cover art included)