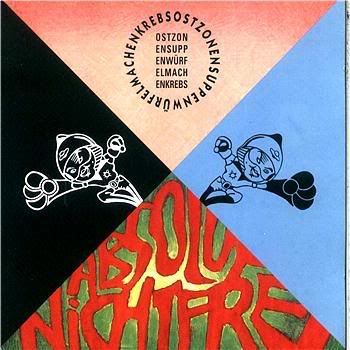 Having formed in 1986, the band with that absurd sounding name – borrowed from the headline of a German tabloid ("East German Stock Cubes Give You Cancer") – released their "Für Zuhause" LP on L´AGE D´OR in 1990 which still is considered as one of the most important German releases of the 90's.
On their first two releases, the formation around singer, songwriter and guitarist Carsten Hellberg sang in English, then they stopped singing altogether, and in the end in German. The usual process of finding the right language and its implementation as regards the lyrics likewise applied to the music of this band – affectionately also known as the SuWüs (short for "Suppenwürfel"). At the beginning it was something like offbeat, non-classifiable folk core rock (from A as in Amon Düül to Z as in Zappa, there seemed to be a bit of everything in it) which, despite the vast range of styles, depicted incredible homogeneity.
On their last triumphant release, "Leichte Teile, kleiner Rock" (1998), the SuWüs discover groove and continue to impress with their intellectual and also very private lyrics without coming across as smart-arses. It's so easy: regaining speech. Organizing the vocals and instrumentation more compactly. Formulating more succinctly. Bringing on an indie prog rock smasher as if one were half nuts, and picking up anything from King Crimson to Built to Spill or whatever you happen to find along the way. History speaks.
Here´s their 1992 album, called "Absolut nicht frei" (L'Age D'Or):
Ostzonensuppenwürfel - Absolut nicht frei
(192 kbps, front cover included)