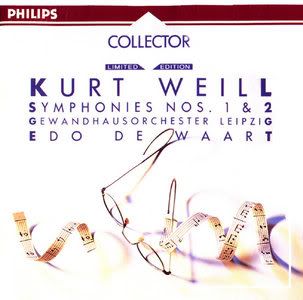 Yes, Kurt Weill wrote more than the "Threepennies opera" and Broadway songs. Symphonies for example.
Some of you may want to check these out and discover another side of Kurt 'September song' Weill.
These symphonies were performed by the Gewandhausorchester Leipzig and conducted by Edo de Waart. They were recorded in December 1973 at the Paul Gerhard Kirche, Leipzig, Germany, and originally released on LP in 1974.
Tracks:
Sinfonie Nr. 1 'in einem Satz' (1921)
1. Sinfonie Nr. 1 'in einem Satz' (25:41)
Sinfonie Nr. 2 (1933-34)
2. I. Sostenuto - Allegro molto (9:22)
3. II. Largo (12:03)
4. III. Allegro vivace (6:29)
Kurt Weill - Symphonies 1 & 2 (1974, Gewandhausorchester Leipzig, Edo De Waart)
(192 kbps, small front cover included)