The "Ensemble Modern" performed its first concert on October 30, 1980, in the Deutschlandfunk broadcast hall, Cologne, Germany. Over the years it has consisted of about 20 players and is a fairly typical chamber orchestra in makeup, its members filling the orchestral sections of strings, brass, woodwind, and percussion in traditional proportions.
It was founded with the intent of promoting new and unusual compositions.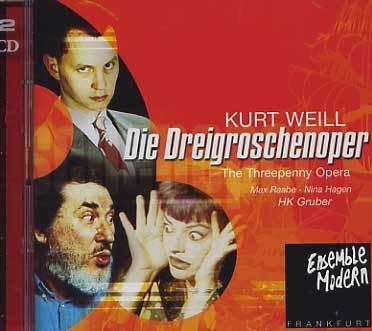 The aforementioned 1980 inaugural concert, which featured works by Schönberg, Webern, Spahlinger, Goldmann, and Schnebel, was broadcast over German radio, giving the new group a measure of overnight recognition. The Ensemble soon developed a schedule of about 100 concerts per year and would perform at many of the world's major concert venues, including Lincoln Center, the Salzburg Festival, the Holland Festival (Amsterdam), and the Festival d'Automne (Paris). Since 1985 it has been based in Frankfurt and has regularly performed at the Alte Oper concert hall. Its 1995 recording of Frank Zappa's "Yellow Shark" achieved great success, and was followed by another Zappa disc, as well as a highly acclaimed 1999 version of Kurt Weill's "Threepenny Opera".
This newly edited version of the music of "Die Dreigroschenoper" was recorded for the first time by the Ensemble Modern led by HK Gruber. Singers include Max Raabe, Sona MacDonald, Nina Hagen, and Gruber himself. The songs are connected by Brecht's own brief narrations, also recorded here for the first time.
This sinuous, dark version of Kurt Weill's ironic morality tale (there's really no hope for anyone sucked into dog-eat-dog Soho, a metaphor for Berlin between the wars), fascinates and disturbs. The overall effect is of a chamber piece, played with controlled vigour rather than the rasping attack of some modern interpretations. As a result and thanks to the subtle playing of the Ensemble Modern, Weill's melancholy, edgy score has rarely sounded so haunting, or at times, delicate. The voices soar above with plaintive beauty, expressing the dreams and nostalgia of characters living off each other by whatever means they can. Max Raabe brilliantly conveys the vulnerability at the heart of the swaggering Macheath, betrayed once too many times by the whores. He is light years from the rocking images created by Ella Fitzgerald, Bobby Darin and Louis Armstrong in their pop versions of "Mack The Knife". Sona MacDonald is a mesmerising Polly Peachum, while erstwhile high priestess of German punk rock, Nina Hagen brings her distinctive gothic snarl to the role of Mrs Peachum. A note for trivia fans: Timna Brauer, an unusually elegant Pirate Jenny, sang for Austria in the 1986 Eurovision Song Contest.
Truly, this "Threepenny Opera" has something for everyone. It's a welcome supplement, adding new dimensions to a familiar and beloved work.
Ensemble Modern - Dreigroschenoper 1
Ensemble Modern - Dreigroschenoper 2
(192 kbps, front cover included)