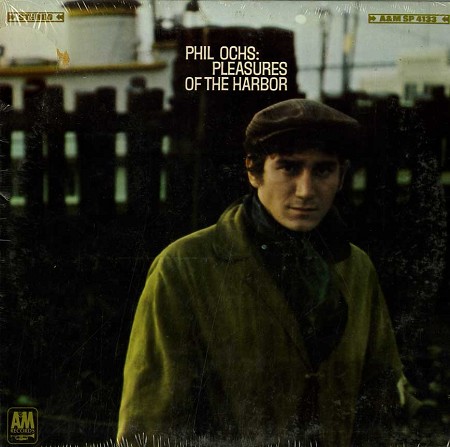 Going into the studio after Dylan's move into rock accompaniment and Sgt. Pepper's vast expansion of pop music, Ochs wanted to make a record that reflected all these trends, and he hired producer Larry Marks, arranger Ian Freebairn-Smith, and pianist Lincoln Mayorga - all of whom had classical backgrounds - to help him realize his vision.
The result was "Pleasures of the Harbor", his most musically varied and ambitious album, one routinely cited as his greatest accomplishment. Though the lyrics were usually not directly political, they continued to reflect his established points of view. His social criticisms here were complex, and they went largely unnoticed on a long album full of long songs, many of which did not support the literal interpretations they nevertheless received. The album was consistently imbued with images of mortality, and it all came together on the abstract, electronic-tinged final track, "The Crucifixion." Usually taken to be about John F. Kennedy, it concerns the emergence of a hero in a corrupt world and his inevitable downfall through betrayal. Ochs offers no satisfying resolution; the goals cannot be compromised, and they will not be fulfilled. It was anything but easy listening, but it was an effective conclusion to a brilliant album that anticipated the devastating and tragic turn of the late '60s, as well as its maker's own eventual decline and demise.
From the liner notes by Richie Unterberger:
"If ever a record by a major 1960s artist was a "transitional" album, Phil Ochs' Pleasures of the Harbor was it. The LP was his first recording to use full band arrangements; his first to almost entirely depart from the topical protest folk songs with which he had made his reputation; his first to be recorded for a then-young A&M label; and his first to be recorded in Los Angeles, the city to which he moved from New York in the late 1960s. It is undoubtedly his most sonically ambitious work, and if the almost ludicrously huge scope of his ambitions guaranteed an uneven album, it nevertheless contained some of his most enduring and successful songs and performances."
Phil Ochs - Pleasures Of The Harbor
(192 kbps, front cover included)