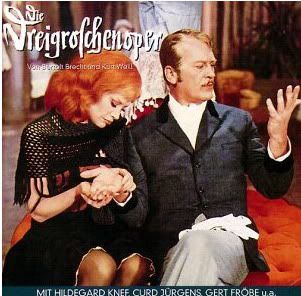 Hildegard Knef was Germany's most prominent postwar stage-and-screen actress. Also known abroad as Hildegarde Neff (apparently for easier pronunciation purposes), her role as a returning survivor of a Nazi concentration camp in Wolfgang Staudte's "Die Mörder sind unter uns" (The Murderers Are Amongst Us) (1946) brought her fame overnight.

She died at 76 on February 1, 2002 in a Berlin hospital from complications stemming from a lung infection. Born 28 December 1925 in Ulm, Germany, Hildegard Knef grew up in the Schöneberg neighborhood of Berlin, the same as Marlene Dietrich, whose career and life style she resembles in related steps to fame. Employed at 17 by the Ufa Studios during the Second World War, she worked as a painter and cartoonist in the animation department while studying acting at the Babelsberg Film School.

Her first film role, at 18, in Harald Braun's "Träumerei" (Dreaming) (1944) fell on the cutting room floor. But her talent as a cool impervious blonde was quickly recognized, and she was given better parts in films directed by the intellectual phalanx in the Goebbels film office: Gerhard Lamprecht, Helmut Käutner, and Erich Engel. During the closing days of the war, she was arrested on the eastern front, disguised as a man, and jailed briefly by the advancing Polish army experiences she would later used to good effect in "The Murderers Are Amongst Us", the first DEFA film production.

Often referred to her as "the thinking man's Marlene Dietrich", she embodied a new style of woman, composed and detached, the exact opposite of Third Reich heroines. Turning to the stage, Hildegard Knef was engaged by Boleslaw Barlog at the Schlosspark-Theater to play leading roles in Shakespeare, Eugene O'Neill, Marcel Pagnol, and Romain Rolland. But after another successful screen role in Rudolf Jugert's "Film ohne Titel" (Film Without a Title) (1947), an ironic spoof of filmmaking, for which she was awarded Best Actress at the 1948 Locarno film festival, she left for the United States at the invitation of David O. Selznick, changing her name to Hildegarde Neff.

But after two years of unemployment in Hollywood, she returned to Germany to star in Willi Forst's "Die Sünderin" (The Sinner) (1950), the scandalous story of a woman who prostitutes herself to save a painter from going blind and appears naked in one key scene. Throughout the 1950s, she was sought by both Hollywood and German production companies, teamed with such leading men as Hans Albers, Erich von Stroheim, Tyrone Power, and Gregory Peck. Julien Duvivier directed her in France, Carol Reed in Britain, and Henry Hathaway in Hollywood.

Her great stage success was a ten-year span on Broadway, from 1954 to 1965, playing Ninotchka 675 times in Cole Porter's musical comedy "Silk Stockings". The role proved so successful that she began a fabled career as, in Ella Fitzgerald's words, "the world's greatest singer without a voice".

In 1963, after playing "Pirate Jenny" in Wolfgang Staudte's film adaptation of Brecht/Weill's "Die Dreigroschenoper" ("The Threepenny Opera"), she launched a new career as a chanson-singer, firmed a lasting friendship with Marlene Dietrich, and worked with Billy Wilder in "Fedora" (1978), her last important screen role. Afflicted by cancer, Hildegard Knef showed great courage by fighting back and undergoing several operations. Between stage and TV appearances, she wrote "Der geschenkte Gaul" (Gift Horse), a bestselling autobiography, and "Das Urteil" (The Verdict), the story of her fight against cancer.

Here is her 1962 appearance as "Pirate Jenny" in "Die Dreigroschenoper" (Three Penny Opera with Curd Jürgens and Gerd Fröbe) - another classical piece showing her incredible acting abilities.
Die Dreigroschenoper - With Hildegard Knef & Curd Jürgens

(192 kbps, cover art included)