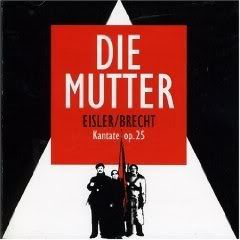 In 1930, Hanns
Eisler
began his lifelong collaboration with writer Bertolt Brecht, immediately producing "Die Massnahme" and one of the first important works of socialist realism, the moving cantata "Die Mutter" (The Mother, 1932).
This work contains neo-Classical elements, energetic choruses ("Der zerrissene Rock"/"The Torn Coat", about factory bosses who deride workers' needs, and the "Grabrede"/"Funeral Oration", a melodically powerful Stravinskian harmonization of Gregorian chant), and touching arias (the extraordinarily beautiful quasi-twelve-tone song "Lob der dritten Sache"/"In Praise of Lower Class Causes"). The final chorus contains the image of the Mother carrying the red banner, untiringly.
This album is a recording from GDR times of the cantata based on "Die Mutter" with choir and orchestra of the Academy for Music "Hanns
Eisler
" and Käthe Reichel, Hilmar Thate and others. Also included are two lively selections from Suite Nr. 4 "Die Jugend hat das Wort" ("Youth Has the Floor").
Tracks:
1. Overtüre
2. Wie Die Krähe
3. Das Lied Von Der Suppe
4. Der Zerissene Rock
5. Gedanken ÜBer Die Rote Fahne
6. Lob Des Kommunismus
7. Lob Des Lernens
8. Lob Eines Revolutionärs
9. Im Gefängnis Zu Singen
10. Lob Der Wlassowas
11. Lob Der Dritten Sache
12. Grabrede
13. Steh Auf !
14. Lob Der Dialektik
15. Marsch Der Jugend Die Das Wort Hat
16. Finale
Hanns Eisler, Bertolt Brecht - Die Mutter - Kantate op. 25
(192 kbps)